Thinking about buying a hybrid pickup truck? Learn why hybrid trucks are good vehicles and all the models you can buy today.
With the electric car craze taking over the pickup truck segment with extreme fervor, you might have missed the slew of new hybrid pickup trucks to hit the market lately. Despite all the hype surrounding pure-electric pickups, it is mass hybridization rather than full electrification that will define the segment in the near future.
Why? Well, hybridized trucks have several key advantages that make them better than the current batch of electric trucks.
This guide discusses what exactly a hybrid pickup truck is, all the hybrid truck models currently on the market, upcoming models, and the advantages of owning one over a gas-powered or electric truck.
Before we begin, here is a quick overview of all available hybrid pickup models:
| | 2021 Ford F-150 Hybrid | 2022 Toyota Tundra Hybrid | 2022 Ram 1500 eTorque Hybrid | 2022 Ford Maverick Hybrid |
| --- | --- | --- | --- | --- |
| Size | Full-size | Full-size | Full-size | Compact |
| Type | Full hybrid | Full hybrid | Mild hybrid | Full hybrid |
| Battery | 1.5 kWh | 1.87 kWh | 0.43 kWh | 1.1 kWh |
| Power | 430 hp | 437 hp | 305 hp V6, 395 hp V8 | 191 hp |
| Torque | 570 lb-ft. | 583 lb-ft. | 269 lb-ft. V6, 410 lb-ft. V8 | 155 lb-ft. |
| Fuel economy (city / hwy / combined) | 25/26/25 mpg | TBA | 20/25/22, 17/23/19 mpg | 42/33/37 mpg |
| Payload | 2,120 lbs (962 kg) | 1,940 lbs (880 kg) | 1,850 to 2,320 lbs (2,849 – 3,715 kg) | 1,500 lbs (680 kg) |
| Towing | 12,700 lbs (5,761 kg) | 12,000 lbs (5,443 kg) | 7,740 lbs to 11,560 lbs (3,511-5,244 kg) | Towing: 2,000 lbs (907 kg) |
What Is A Hybrid Pickup Truck?
A hybrid truck, like all other hybridized vehicles, is a pickup truck that uses an internal combustion engine and at least one electric motor for propulsion.
The electric motor sources its energy from a high-voltage battery pack that's typically charged by the combustion engine and/or through regenerative braking. This battery is separate from the conventional 12-volt battery used to power the vehicle's ancillary components (lights, wipers, etc.).
Sometimes, the gas or diesel engine does all the work, while other times, it's entirely the electric motor. The main purpose of a hybrid powertrain, however, is for both powerplants to work together to reduce fuel consumption, improve fuel economy, and, in some instances, provide a boost in power.
The first mainstream hybrid pickup trucks were the Chevrolet Silverado Hybrid and GMC Sierra Hybrid. Introduced in 2005, both models proved unsuccessful because they commanded a hefty price premium without providing much improvement over the non-hybrid Silverado and Sierra.
Hybrid technology was not advanced or feasible at the time, and General Motor's failure likely discouraged other automakers from investing in hybrid pickups until nearly two decades later.
Types Of Hybrid Trucks
While nearly everyone and their mother has heard of hybrid vehicles thanks to the success of the Toyota Prius, not many are aware of the various types that exist.
There are three main types of hybrid vehicles — full hybrids, mild hybrids, and plug-in hybrids — each designed to accomplish a different mission, ranging from maximizing fuel economy to minimizing the cost of the vehicle.
Full Hybrid
A full hybrid vehicle (FHEV) can run using just the gas/diesel engine, the electric drivetrain for a short distance, or both.
When pulling away or driving at low speeds, the system only uses the electric motor for power, resulting in little to no fuel consumption. The combustion engine takes over during rapid acceleration and remains in operation at high speeds.
With a full hybrid, the battery is exclusively charged through regenerative braking or by running the engine. There is no plugging into anything.
Mild Hybrid
Mild hybrids are a simpler, "milder" version of full hybrids, boasting a smaller electric motor and battery. What really sets them apart, however, is that their electric motor and battery are too weak to work independently of the combustion engine.
That's to say mild hybrid trucks cannot travel on electric power alone, even over a short distance. Instead, the electric motor works mainly to provide a small boost of power to the gas/diesel engine when accelerating and help alleviate the burden of power-hungry systems (air conditioning, etc.) on the engine.
Pickup trucks are expensive vehicles that get lower gas mileage than other vehicle body styles. Mild hybrid systems are inexpensive way of improving efficiency, but their limited capabilities make them unable to improve fuel economy to the same degree as full hybrids can.
Plug-in Hybrid (PHEV)
Whereas full and mild hybrid pickup trucks charge their batteries solely from engine power and regenerative braking, plug-in hybrids have a much larger battery pack that can be charged using external electricity sources, in addition to those internal means.
Like full hybrids, plug-in hybrids can operate using only the electric motor, combustion engine, or both; however, their larger battery capacities generally grant them a much greater electric-only range.
These hybrids are the most expensive type and represent a halfway point between hybrid and all-electric trucks.
Available Hybrid Pickup Truck Models
"Do hybrid trucks exist?" is a question I often hear people ask. Not only do they exist, but there are more today than there have ever been, and they are better than ever.
Thanks to advances in battery tech and engineering, many of the top pickup truck makers now offer a capable hybrid-electric truck of some sort. Ford, Toyota, and RAM are key players, and Honda and Jeep may soon join the fray.
The Ford F-1500 Hybrid and Maverick Hybrid, Toyota Tundra Hybrid, and RAM 1500 eTorque Hybrid are prime examples of hybrid trucks you can buy today. Let's take a look at what each one has to offer.
Ford F-150 Hybrid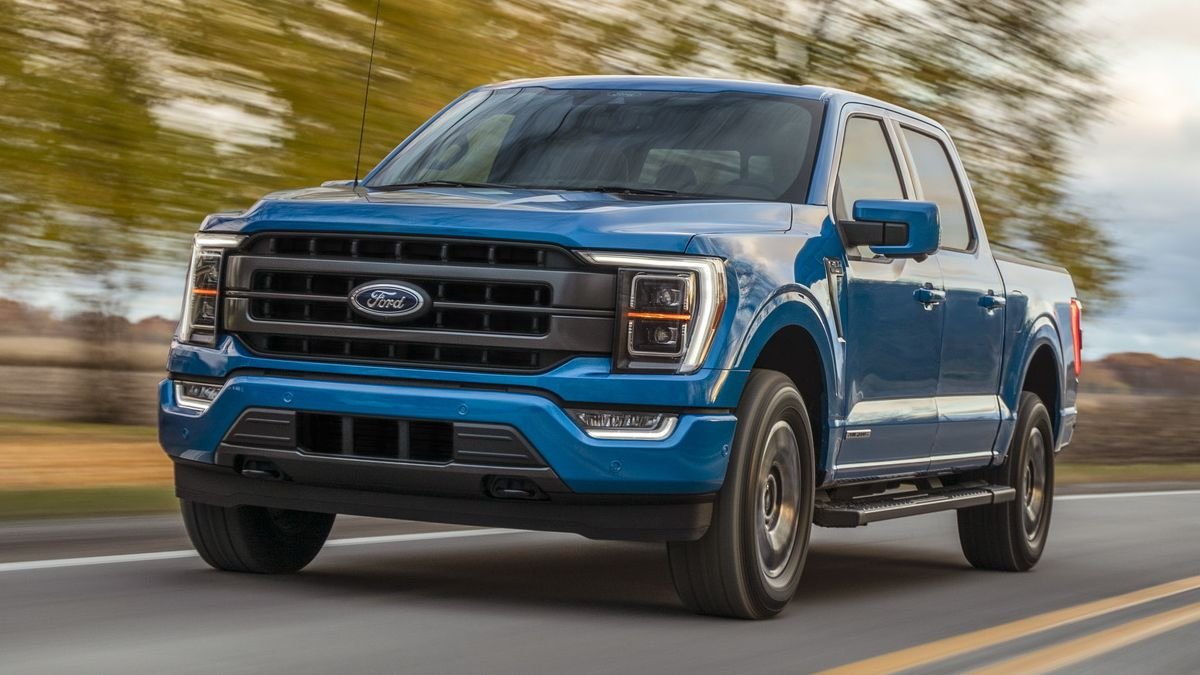 2021 Ford F-150 PowerBoost Specs
Size: Full-size truck
Type: Full hybrid
Power: 430 horsepower
Torque: 570 lb-ft.
Fuel Economy: 25/26/25 mpg
Payload: 2,120 lbs (962 kg)
Towing: 12,700 lbs (5,761 kg)
Kicking things off is the hybrid version of the Ford F-150, the best-selling pickup truck of all time.
The so-called Ford F-150 PowerBoost is a full hybrid truck that combines a twin-turbo V6, an electric motor, and a 10-speed automatic transmission to produce 430 horsepower and 570 pound-feet of torque, quite a bit more power than the non-hybrid V6 F-150.
Power for the electric motor comes from a 1.5-kWh lithium-ion battery packaged under the truck bed so that it doesn't reduce passenger or storage room.
This setup allows the Ford F-150 hybrid to drive in electric-only mode at speeds of up 50 mph (80 km/h) before the gas engine kicks in to take over, a much higher speed than what other full-size hybrid pickup trucks can manage.
You can expect fuel economy of up to 25 mpg in combined city and highway driving (25 mpg city, 26 mpg highway) — a significant improvement over the non-hybrid V6 — and should be able to travel up to 750 miles (1,207 km) on a single tank.
The F-150 Hybrid can use its engine to spin the electric motor and turn it into a generator, allowing owners to power electrical components or even their entire house when the power goes out or there is no readily available power source, something none of its competitors can do.
Toyota Tundra Hybrid
2022 Toyota Tundra Hybrid Specs
Size: Full-size truck
Type: Full hybrid
Power: 437 hp
Torque: 583 lb-ft.
Fuel Economy: TBA
Payload: 1,940 lbs (880 kg)
Towing: 12,000 lbs (5,443 kg)
Toyota is the leader in hybrid vehicles; however, it wasn't until the arrival of the third-generation Toyota Tundra that the company introduced its first-ever hybridized pickup truck, the 2022 Toyota Tundra Hybrid.
Similar to the F-150 Hybrid, the hybrid Tundra employs a new i-Force Max powertrain that pairs a 3.5-liter twin-turbo V6 gasoline engine with an electric motor supplied by a 288-volt, 1.87 kWh Nickel-Metal Hydride battery stored under the rear passenger seats.
It produces 437 horsepower and 583 pound-feet of torque, channeled to the wheels via a 10-speed automatic transmission. That's a lot more power than the 389 horsepower and 479 pound-feet of torque produced by the nonhybrid V6 Tundra.
The electric motor powers the truck at low engine speeds. When speed rises above 18 mph (29 km/h), the gas engine takes over and stays in operation.
The Toyota Tundra Hybrid is expected to achieve a combined fuel economy rating of around 28 MPG on the EPA test cycle. As a full-size pickup truck, it's currently the only real competitor to the Ford F-150 PowerBoost Hybrid.
Ford Maverick Hybrid
2022 Ford Maverick Hybrid Specs
Size: Compact (small truck)
Type: Full hybrid
Power: 191 hp
Torque: 155 lb-ft.
Fuel Economy: 42/33/37 mpg
Payload: 1,500 lbs (680 kg)
Towing: 2,000 lbs (907 kg)
Ford offers another hybridized pickup truck beside the F-150 PowerBoost, and it's geared towards individuals who want a smaller, more affordable, and more maneuverable work vehicle.
The compact, car-based Ford Maverick Hybrid isn't a hardcore pickup like its larger sibling, nor is it a plug-in hybrid like many people seem to think. Rather, it is a full hybrid that mates a 2.5-liter Atkinson-cycle gas engine to a small electric motor and battery.
The system produces 191 horsepower and 155 lb-ft of torque, sent exclusively to the front wheels (there is no all-wheel-drive option at launch) via a conditionally variable transmission (CVT).
The Ford Maverick Hybrid can haul as much as 1,500 lbs and tow 2,000 lbs, enough for the needs of most people. It can achieve 40 mpg in city driving, making it the most fuel-efficient pickup truck with a combustion engine, hybrid or not.
Ford says the Hybrid Maverick can travel up to 500 miles (805 km) on a single tank of gas.
RAM 1500 eTorque
2022 RAM 1500 eTorque Specs
Size: Full-size truck
Type: Mild hybrid
Power: 305 hp V6, 395 hp V8
Torque: 269 lb-ft V6, 410 lb-ft V8
Fuel Economy: 20/25/22, 17/23/19 mpg
Payload: 1,850 to 2,320 lbs (2,849 – 3,715 kg)
Towing: 7,740 to 11,560 lbs (3,511-5,244 kg)
The RAM 1500 uses a mild hybrid system, making it the least sophisticated hybrid truck on the market.
Mild hybrid systems are smaller and less capable than full hybrids since the gas engine and electric motor must always work in conjunction, and the electric motor is too weak to power the vehicle on its own.
As a $995 option on high-trim models, RAM's affordable 'eTorque' 48-volt battery-alternator-starter mild-hybrid system adds about 90 pound-feet of torque when paired with the truck's Pentastar V6 engine and 130 lb.-ft. with its more powerful Hemi V8.
The eTorque V8 RAM 1500 is around 2 mpg more fuel-efficient than the non-eTorque V8 model, while the eTorque V6 gets the same mileage as the regular V6 model.
RAM's engineers estimate that you can save around 48 gallons (180 liters) of fuel if you stop at a stoplight 10 times every day for a year.
Despite being a full-size truck with hybrid-electric capabilities, the RAM 1500 Hybrid is not a serious competitor to the Ford F-150 Hybrid and Toyota Tundra Hybrid. Its eTorque hybrid system is simply too weak.
Future Hybrid Truck Models
The Ford F-150 and Maverick hybrids, Toyota Tundra Hybrid, and RAM 1500 eTorque Hybrid will be joined by several other hybridized pickups in the coming years.
There will also be a Toyota Tacoma Hybrid, a Jeep Gladiator Plug-in Hybrid, and possibly a Honda Ridgeline Hybrid.
Toyota Tacoma Hybrid
Toyota has announced that every gas-powered Toyota model will have an electrified option by 2025. That includes the Tacoma midsize pickup.
In fact, the Japanese automaker will use the same TNGA-F platform that underpins the new Tundra for the next-generation Tacoma, meaning the model will be designed from the ground up to be hybrid-ready.
As with the Tundra lineup, the Tacoma Hybrid will likely be more powerful than the gas-powered version.
Jeep Gladiator Hybrid
Much like Toyota, Jeep will give all its models an electrified option in the next few years.
Considering that the Gladiator is essentially a pickup version of the Wrangler, and there is already a plug-in hybrid version of the Wrangler, it's more than likely that a Gladiator plug-in hybrid is on the way.
Pickup trucks are more lucrative than SUVs, so Jeep has a very good reason to give its mid-size pickup a hybrid powertrain.
Like the Wrangler 4xe plug-in hybrid, the Gladiator Hybrid will pair a 2.0-liter turbocharged engine with two electric motors to produce approximately 375 combined horsepower and 470 pound-feet of torque. It should be able to drive 20 miles (32 km) on electricity alone.
Honda Ridgeline Hybrid
The Ridgeline is the only pickup truck Honda offers, and it may be getting a hybrid version to increase its relevance in the marketplace.
According to reports, the Honda Ridgeline Hybrid will pair the V6 engine of the gas-powered model with an electric motor and a decently sized battery.
Not only will it be more fuel-efficient than the V6 Ridgeline, but it may also be more powerful.
The Ridgeline is a car-based compact pickup, so its main competitor is the Ford Maverick Hybrid.
Benefits Of Hybrid Trucks
There are several compelling reasons for buying a hybridized pickup over a gas-powered or all-electric truck.
Full and plug-in hybrids can be significantly more fuel-efficient and environmentally friendly than their gas/diesel counterparts since they can operate on electric power alone. They also tend to have better resale value.
Also read: Pros And Cons Of Electric Cars
Compared to electric vehicles, these partially electrified trucks can be driven anywhere and are just as convenient to use as any regular truck.
Moreover, being that there are gas stations everywhere and their batteries are recharged internally by the combustion engine and/or through regenerative braking, you never have to worry about range anxiety or finding a charging station.
But the biggest advantage hybrid pickup trucks have over electric pickups is driving range when under load.
Towing or hauling heavy loads places considerable strain on an electrified vehicle's batteries and can reduce the range of an electric truck by as much as one-third or one-half.
Hybrid trucks simply switch to using their combustion engine in those situations and don't have to contend with such an issue.
The Ford F-150 Hybrid, for instance, can carry and tow more than the electric F-150 Lightning because it's not restricted by the capacity and capability of its battery.
So, despite all the hoopla about electric pickup trucks, hybrid trucks may actually be the better work vehicles for those few people who use their pickups for what they were designed for — work.
Are Hybrid Trucks Worth It? Final Thoughts
Hybridized pickup trucks are worth it if you need the capabilities of a pickup truck and want to save money on gas.
They are more fuel-efficient and typically more powerful than regular, gas/diesel-powered trucks and offer better hauling and towing capabilities than comparable electric trucks.
Does anyone make a hybrid pickup truck? You bet! Technological advances have made hybridized pickups very feasible, so there are a lot more hybrid trucks available today than there have ever been.
The Ford F-150 Hybrid, Ford Maverick Hybrid, and Toyota Tundra Hybrid are excellent full-size options that provide superior fuel economy and capabilities over their gas counterparts, while the Ford Maverick Hybrid is a solid alternative for those looking for a small truck that's incredibly fuel-efficient.
Many experts don't consider the RAM 1500 eTorque a real hybrid because of the simplicity of its mild hybrid system, but the system does enhance the truck's torque output.
While General Motors has no plans to release a Chevrolet Silverado hybrid or GMC Sierra hybrid, Jeep will introduce a plug-in Gladiator hybrid and Toyota is making a Tacoma Hybrid. Honda is reported to be working on a hybrid version of the Ridgeline.
Forget about electric trucks — with so many great choices on the market, there has never been a better time to buy a hybrid pickup truck.